Now Closed
but you can still book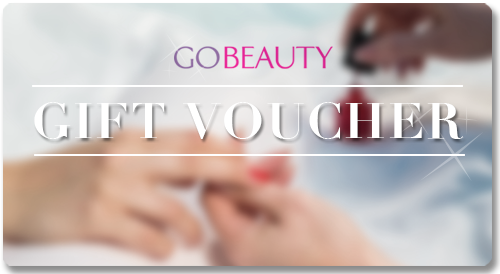 Woodlands Spa
29 Driefontein Road, Muldersdrift, Gauteng
Why not let us call you?
(first thing when we open)
THE PLACE
Type: Day Spa
Speciality: Signature Treatments
Access: Private parking
Open Plan: 2
Private Rooms: 6
Couples Rooms: 2
Therapists: 10
COMFORTS
Ambient Scent
Ambient Music
Luxury environment
Stylish establishment
Pool
Hydro
Relaxation room
Garden / outdoor space
Place to hang your clothes
Changing rooms
Refreshments served
Bathroom with shower
Restroom on premises
Payment by credit card
services offered
Body treatments
from R300
Signature Experiences
from R1000
Special Offers
Couples Winter Promo: Mon-Wed ~ Massage, Pressure Point Foot Massage, Scalp Massage, Express Mai/Pedi R1700 per couple (Save R900)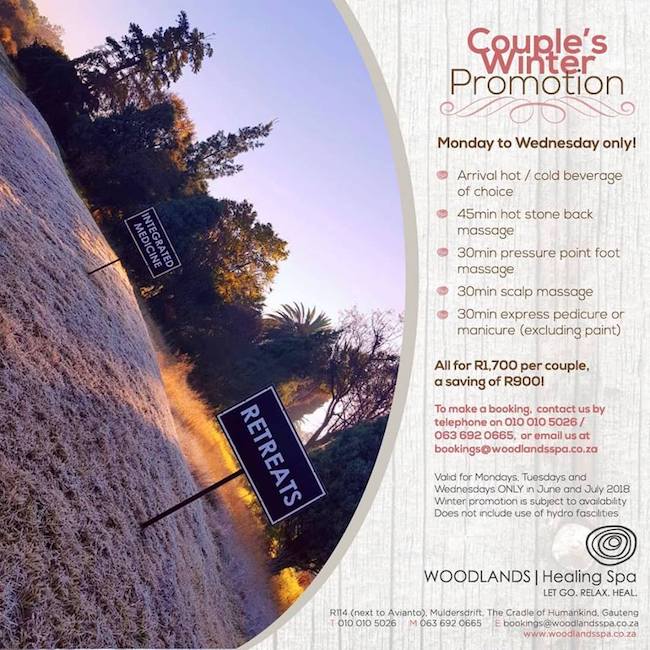 Enquire
about this
90min Aroma massage 60min Anti-oxidant Facial 30min Foot Ritual (Exfoliate & Massage) R1000 (Save R500)
Enquire
about this
Woodlands Spa offers bespoke treatments, designed to relax you, heal you, and give you an intrinsic view of yourself. Idyllically set on the banks of the Crocodile River, our approach is holistic, offering a unique blend of traditional spa therapies and energy healing experiences.

We are dedicated to providing an unforgettable stay, by offering all services required to effectively heal and energise our guests. Bespoke treatments, workshops, classes and healing retreats are some of the ways in which we deliver of our promise. Woodlands Spa is not only about relaxation, but about healing and because of this, we have a medical doctor available to oversee our more intensive workshops.

Feed your body as well as your soul, with our inviting menu of organic options.

Our mission is to provide our guests with the following:
Incredible workshops, classes and intensive retreats for the healing of body, mind and soul.
Many exercises and techniques for spiritual growth which can be utilised in daily life.
Adventures in consciousness in as many ways as possible, through meditation, yoga and a spiritual lifestyle.

We provide a getaway that goes beyond health and beauty. We offer a state of well-being that uplifts your spirit and sparks change in your life. At Woodlands Healing Spa, you'll find a place to decompress, take a deep breath and truly focus on yourself. Spend time enjoying the beauty of Woodlands with wide open spaces to meditate, journal, daydream or soul search. The environment at Woodlands provides a space for reflection and contemplation renewing the mind, energizing the body, and uplifting the soul.

This is the vacation your soul craves. Get away from it all and make space to concentrate on what's really important—your health and happiness. Our beautiful spa and retreat centre is the perfect place for relaxed exploration, inviting you to evolve to an enhanced life.

#1 out of 12 Spas in Muldersdrif
Reviews
Ambience

Cleanliness

Facilities

Staff

Value
Have you been here? Write a review
Showing 1-10 of 120 items.
Ellen Mokau
Great space to spend with urself the sound of the waterfall was out of this world
Nothando Khumalo
Was here today I loved the place it's very chilled and also loved the service ??.
Karen Hardman
I'm on limp mode today due to the awesome time at Woodlands yesterday. The treat was an early Mothersday spoil from my daughter, Chanel. Caroline made us feel at home and briefed us on our program. Rebecca and Queen were excellent. Thanks ladies!!
Nadia Jordaan
What an experience... Feeling refreshed, relaxed and pampered... My highiligh of the day was the A-MA-Zing facial WOW! ?
Justine Spiller
We have been to quite a lot of spa's and Woodlands spa you guys were absolutely amazing. Wonderful service from the moment we arrived to the moment we walked out. The treatments especially the facials were out of this world. The food the champers the cuppachino, was awesome! Elizabeth and Petunia well done girls! Caroline at reception you are a gem keep up the good work. thank you for an amazing experience. lots of love The Spiller's
Nicole Spruijt
Hubby and celebrated our 10th anniversary with a Couples Connect and WOW! We didn't want to leave and go back to reality! Thanks Tania and your wonderful team!
Kacey McCarroll
What a beautiful place! The Space Between accommodation is gorgeous and homey. Wonderful overall experience, thank you.
Renee Wright
I had my first experience with Woodlands Spa last year as a gift from a friend. I fell in love with it... the tranquility of the setting; the treatment rooms overlooking the river; the sound of the water; the food; the staff and now recently enjoyed with my partner SOUL RETREAT. It was mind blowing. We were booked into a modern Chalet for the night dinner; bed and breakfast; then treated to a Soul Connection starting with Chantal from ShantiChanty. then breathwork with Dr Manga; and all in all it was a transforming experience.
START